07/29/2014
Tuesday, July 29, 2014
In 1804, President Thomas Jefferson commissioned Captain Meriwether Lewis and Lieutenant William Clark to explore the Louisiana Purchase—most of the unexplored continental United Statesf from the Mississippi River to the Pacific Ocean.. Traveling thousands of miles with the Lewis and Clark Expedition as guide and translator was a Shoshone Indian lady named Sacajawea.
Sacajawea.
Remember that name.
Many people do not, even though a statue of her stands at Cascade Locks, Oregon, near where the Expedition reached the Pacific; and, in the year 2000, the U.S. Mint struck a one dollar coin honoring Sacajawea: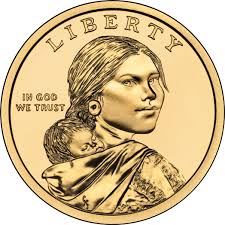 Yesterday, after our weekly breakfast, my friend Wes and two of my sons, Fred and John, gathered in my living room to discuss life and theology as is our long-established custom.
Since I'd just finished writing that book on church history, Wes told me what I've done wrong and offered me sage advice on my next writing project.
I bristled and got defensive. Then later apologized to him. Although I didn't like it, I did hear what he said and I do intend to follow his insightful counsel.
In turn, Wes told about an incident at his work that's been dwelling on his mind. He saved a person's life, but the idea that he might possibility have done even more haunts him.
As our conversation drifted, I reflected on the fact that women and men have different ways of stating compliments and criticisms.
Women will give put-downs by saying nice things—"Dear, that blue dress makes you look so much slimmer". All the women in the room know that translates to, "You cow, that dress is years too young for you and you need to lose at least 40 pounds".
Guys compliment each other by hurling insults, "John, you sorry bastard, how the hell are you" which all the guys n the room translate to, "I love you but I'm not going to say that out loud".
Well, yesterday as we discussed Sunday's sermon on Proverbs, prayer, my faults, divine healing, and Cassandra in Greek mythology, as an aside, Fred told about a conversation he'd once overheard up in Maryland.
One guy said, "Shut up, Brian. You don't know what you're talking about. You're just a Sacajawea".
"What's that supposed to mean? What's jawea?"
"I don't know. I just heard the word somewhere the other day and thought it was cool—but you're a sack full of it".